Career history
Michael J. Bauer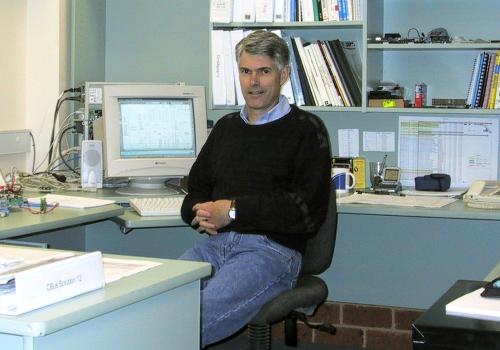 Photo: Mike at Bytecraft Automation (2004)
---
Current occupation: Sessional (casual) Teacher/Instructor


Swinburne University of Technology
PAVE Division, TET (Engineering) Dept

I teach electronics subjects related to micro-controller embedded systems, programming (C-language), digital signal processing (DSP), etc.


---
Axxin Pty Ltd: March 2012 – June 2015
The company: www.axxin.com
Axxin provides platforms and diagnostic products for biomedical applications that bridge the gap from chemistry to market with world leading innovation, capability and cost effectiveness. The company's goal is to take the cost and complexity out of point-of-care (near patient) diagnostics. The company has extensive experience in instrument design, industrial design, sensor technologies and has applied these to molecular and lateral flow applications. Axxin has established itself as an early leader in commercializing diagnostic delivery systems in partnership with leading biomedical and pharmaceutical companies. The company's products are used worldwide in research and development and diagnostic applications.
The position: "Firmware Engineer"
This was a challenging and satisfying role entailing embedded software development for bio-medical analytical instruments and related production test equipment. The R&D environment placed a serious emphasis on standards compliance, version control, documentation and quality assurance. A highlight of my time with Axxin was the single-handed software implementation for the prototype of an instrument known as the "T8-ISO", pictured below.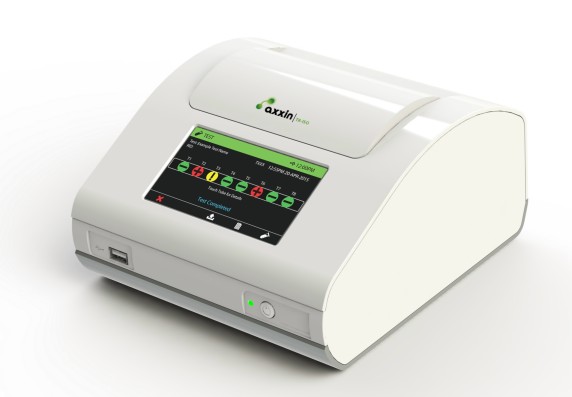 ---
Agilent Technologies: August 2007 – June 2010
(formerly Varian Inc.)
The company: In 2010, Varian Inc., a U.S. manufacturer of scientific analytical instruments, was acquired by Agilent Technologies, a spin-off of Hewlett-Packard's Test and Measurement Division. A large part of the R&D and manufacturing, formerly done by Varian Australia, is still done in Melbourne where the company was founded as Techtron Pty Ltd.
The position: As a "Senior Electronics Engineer" with Varian Australia, I was involved in a project to upgrade a UV-Vis spectrophotometer marketed as "Cary 60". The role included a complete re-design of the instrument electronics, development of automated test firmware and manufacturing test procedures for the instrument controller circuit board.
---
NeoProducts Pty Ltd: May 2000 – Nov. 2000, and May 2004 – April 2005
The company: NeoProducts is a successful player in the world market for "information kiosks", custom engineered in its Melbourne office and factory.
Visit NeoProducts web site
My first task with NeoProducts was to help Neo's development group to "fast-track" the design of a sub-assembly required for a large-scale production run of kiosks commissioned by the UK Employment Service network. The sub-assembly was termed "kiosk equipment monitor" (KEM) -- a micro-controller based module intended to monitor and log operation of the PC and peripherals embedded in the kiosk. The unit also controlled AC power to the kiosk's computer and peripherals, allowing scheduled power-up and power-down of the kiosk, programmed via the kiosk PC's LAN.
A second task, some years later, was to upgrade the KEM design. to provide new features, e.g. USB connectivity to the host PC. The second generation KEM, "Guardian II", used the Atmel AT89C5131 USB micro-controller. This was my first foray into the realm of 8051-core MCU devices... and the last! (The most horrendous MCU core architecture ever to be conceived?)
---
Bytecraft Automation Pty Ltd: August 1992 – April 2000, and May 2001 – March 2004
The company: Specialising in electronics for the entertainment industry, Bytecraft Automation designed, manufactured and exported "high tech" electronic equipment for use in theatres; e.g. lighting equipment and stage machinery automation systems. Bytecraft Automation (which was a "spin-off" from the Bytecraft Systems and Entertainment group) is now defunct, but in 2004 a new independent company State Automation Pty Ltd took over much of the legacy business activity.

As "Project Engineer" (Projects and Systems Dept, 1992 – 1999) ...
The position of "Project Engineer" involved the planning, systems design, custom engineering, supervision of installation, and on-site testing and commissioning of stage machinery automation systems, e.g. the "State" and "Status" Motion Control Systems developed by Bytecraft. Major projects designed and completed under my supervision:
Opera de Lyon (France), flying system construction (1992-93)
Hong Kong Cultural Centre, flying system upgrade (1993).

Photo: Testing the stage automation system in Theātre du Chatelet (Paris, 1999)
I was involved in the specification, systems design and on-site engineering of many other prominent theatre automation installations around the world, including:

Photo: Just a few of the 230 scenery hoists in the Malasian National Theatre, Kuala Lumpur.
As "Electronics Design Engineer" (R&D Dept, 1994 – 1997) ...
The position involved conceptual design, product specification, and supervision of a small team of design engineers, including direct "hands on" activities in hardware design and firmware development. In this role, I helped to bring several new products to the market, most notably...
Operator Console ("Status 600/900"): Based on a Motorola VME 162 (68040) embedded processor board running proprietary application software under Lynx-OS (a UNIX-like OS, but with a real-time kernel), the console featured a graphical user interface (GUI) for system setup and information display.
Winch/Axis Controller ("Wincon III"): A Eurocard-format plug-in module, "Wincon III" was a digital servo velocity/position controller, networked to the Operator Console via Ethernet and EIA/RS485, and interfacing to a motor Variable Speed Drive via an analog control output. The unit executed precision motion control by tracking a computed velocity/position profile against a shaft encoder input, while monitoring various safety signals from the machine.
Motor-Drive Automatic Patch ("Medusa"): A matrix of controlled switches which allowed a selection of winch motors to be connected ("patched") temporarily each to a variable-speed drive (VSD), where the number of motors in the installation exceeds the number of VSDs. This is desirable because typically, in a theatre, only a small number of machines is required to run concurrently. Medusa saved on VSD and infrastructure capital costs. It also allowed fault-tolerant operation, with appropriate software, i.e. 100% of machine (motor) availability could be preserved in the event that a small number of VSDs or axis controllers were faulty or out of service.
Photo: Bytecraft "Medusa" equipment racks at the Malaysian National Theatre. (The ugly network cabling was put in place for initial testing purposes only.)
Above top: "Status 600" Operator Console.

Bottom: "Wincon III" axis controller module.
As "Product Engineer" (R&D Dept, 2001 – 2004) ...
Back with Bytecraft in a consulting role, I worked with Bytecraft management and a team of engineers designing a new-generation stage machinery control system. A major design objective of the new system was to comply with IEC 61508, an international standard for safety-critical computer-based control systems. An essential focus of the job was to understand and put into practice design methods and techniques recommended by the standard to achieve a very high level of reliability, and hence safety integrity.

Photo: Bytecraft "Wincon V" Axis Controller Module, designed for precision motion control of a variable-speed scenery hoist (or other machine). Mike played a pivotal role in achieving the required Safety Integrity Level (IEC 61508 SIL3 rating) for this safety-critical control system component. The module has a redundant "supervisory" processor (micro-controller in addition to the main processor) dedicated to monitoring safety-related functions.
---
Industrial Control Technology Pty Ltd: 1988 – 1990
The company: ICT is a small company specialising in plant automation, control systems design and (at the time) custom electronics development.
As "Senior Design Engineer", my most memorable role at ICT was to undertake the complete hardware design and operating system software development for an industrial "weigh-feeder" controller ("MasterWeigh II") for ICT's client Web-Tech, of Queensland. MasterWeigh II used a Motorola 68000 processor and a Maxim 7135 dual-slope A/D converter (for high accuracy load-cell signal measurements). The custom RTOS firmware was developed in C and 68K assembler. Several design innovations were incorporated into the product, resulting in a world-class instrument.
---
Nilsen Industrial Electronics Pty Ltd: 1982 – 1985
My job at NIE involved electronics design and firmware development for a digital AC kilowatt-hour meter, intended for the measurement of domestic electricity consumption. The product reached a level of performance exceeding that of conventional electro-mechanical devices, with new capabilities including load control and a communications link for data transfer and/or automatic remote billing. These days, it is called a "smart meter".
The meter design has since been refined for commercial manufacture, originally marketed under the name "EMS-2000". The metering arm of Nilsen's business grew so big that a separate company (NIE) was formed. Other electrical companies (e.g. Email, GE, Zellweger) jumped on the bandwagon. In 2004, the giant electrical manufacturer Email (Westinghouse) bought NIE and closed it down. The current generation of "smart" meters use an ASIC (application-specific integrated circuit) to monitor electrical energy flow.
Photo: Nilsen kWh meter - first working prototype (1983), which used a Motorola MC6805R3 micro-controller with on-chip 8-bit A/D converter.

Photo: Nilsen kWh meter - early production prototype,
EMS 2000 (c. 1985).
---
Prior to 1982... I worked at Deakin University as a tutor in the Division of Computing and Mathematics. Much time was occupied gaining and imparting knowledge in the emerging field of computer science; also designing and building computer interfaces and micro-processor based equipment for Deakin's computing laboratory. It was during this phase of my career that I designed the "Dream 6800" hobby computer, published as a DIY project in Electronics Australia (1979).
---
Publications & Patents:
"Control System for Controlling Plural Electrical Devices"
US Patent #6297610, Issued October 2, 2001. (Also patented in Australia.)
For Bytecraft's proprietary "Medusa" motor-drive patch technology, as applied to theatre stage automation systems (see above).

"Electrical Energy Analyser"
US Patent #4978971, Issued December 18, 1990. (Patented in many countries, incl. Australia.)
For Nilsen "smart" meter energy measurement technique and software algorithm, plus various signal conditioning innovations (see above).
"Functional Safety of a Theatre Stage Machinery Control System"
Australian Computer Society Inc, 2002.
Paper presented at the ACS 7th Annual Workshop on Safety-Critical Systems & Software, Adelaide S.A. 17-18 October 2002.
[View paper (HTML)] [Download paper (PDF)]

"DREAM 6800"
Electronics Australia, May-Aug 1979 (Build-it-yourself project)
Popular series of articles describing a ridiculously simple hobby computer with as little as 1K bytes of RAM (!) that played game programs on a TV. The 1KB ROM (1024 bytes) contained a simple interpretive "language" known as "CHIP-8", which I adapted to the 6800 processor from the RCA COSMAC VIP. It was amazing to see what could be done with the available memory and a "chunky graphics" display of just 64 x 32 pixels, for example, a crude version of Space Invaders, as adrenalin-pumping as the real thing. [Dream 6800 Archive]

"Digital Polyphonic Keyboard"
Electronics Australia, 1976.
Original design for a digital musical instrument having 8-note polyphony, first conceived in 1972. This was my final-year project in the undergraduate engineering course. Although not commercially successful, it can be claimed that the idea pre-dated the first commercial digital keyboards by several years. [Photo] [Article]