Designed especially as a companion sound module for the REMI 2 handset (MIDI wind controller), this 'Lite' version of the REMI Synth is a more compact battery-powered device using the same "sound engine" software as the other REMI synth models (also based on a PIC32MX MCU). The 'Lite' synth can be attached to the player's belt or pocket with Velcro or a metal clip, allowing more freedom of movement while playing through headphones. A wireless audio transmitter (as used on electric guitars) may be plugged in for cable-free performance with an instrument amplifier.
The front-panel user-interface (GUI) is simplified, providing only a few essential day-to-day operations. The GUI comprises a tiny (1.3 inch) OLED display and 2 push-buttons.
The back panel provides a MIDI IN socket (DIN-5) with "power-over-MIDI" (5V DC output) to support a REMI 2 handset or any other MIDI controller with a classic MIDI OUT connection. There is a headphone socket (3.5mm TRS jack) and a low-level output (1/4-inch phone jack) for connection to an instrument amplifier.
A USB port provides the same command-line user interface (CLI) as the other REMI Synth models. The USB connection can supply 5V DC power to the synth module. It also powers the built-in battery charger.
___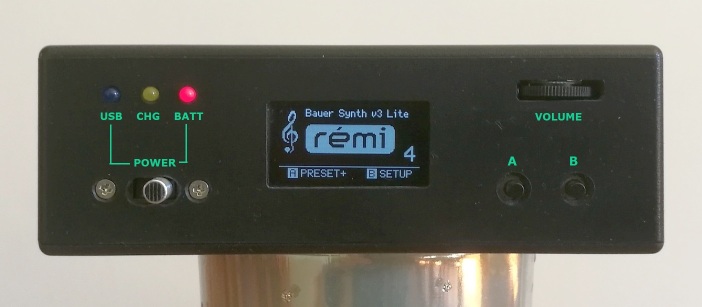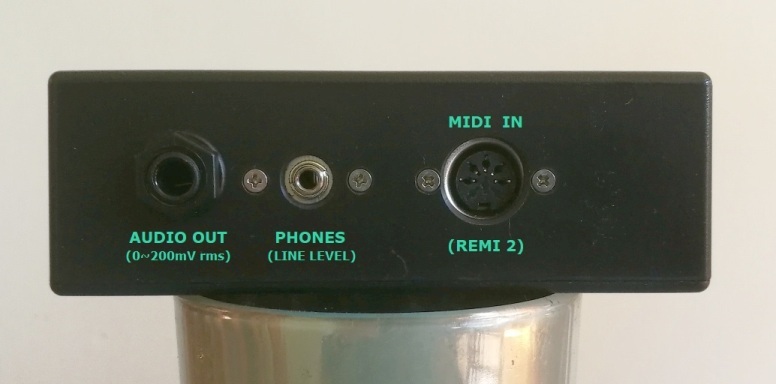 ____
---
The circuit board is built around a PIC32MX340 "audio dongle" designed by a project follower "Chua" who lives in Singapore. Chua's PCB has provision for the I2C EEPROM (24LC08) and PWM audio output components, but access to MCU I/O pins is very limited, so the PCB must be "hacked" to get enough I/O for the synth.
For example, a pair of test-point pads (RC13, RC14) are used for the two push-button inputs. The I2C bus signals (SCL, SDA) required for the OLED display are accessed from the EEPROM (pins 5 & 6). The 6-pin ICSP header provides a further two port pins (RB6, RB7) which are used in the battery charging circuit.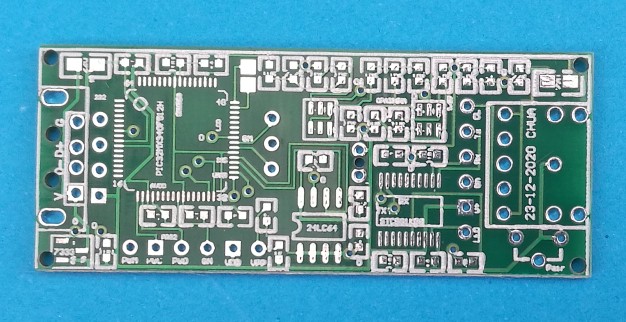 The complete circuit board assembly is shown here...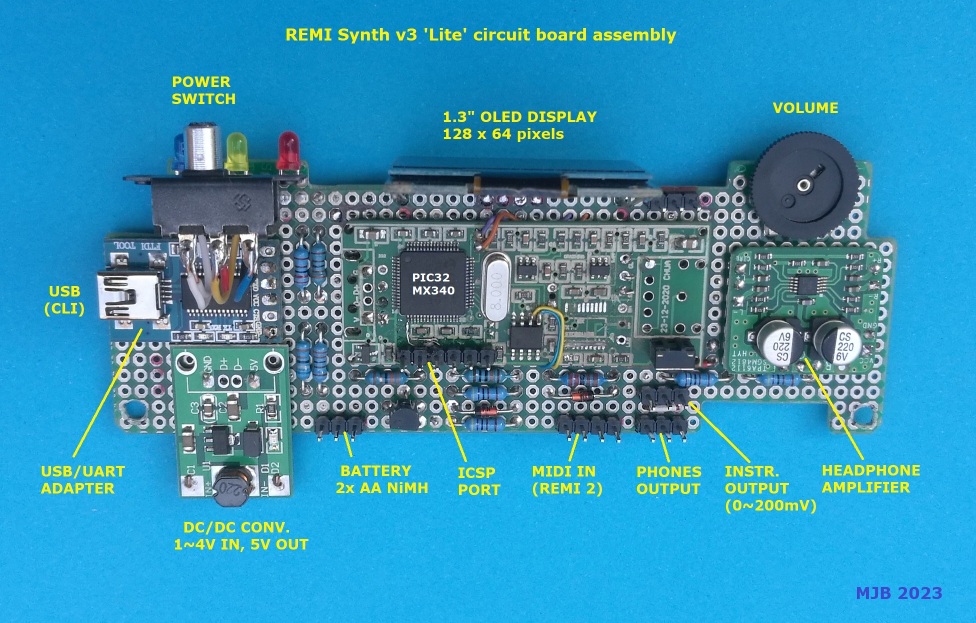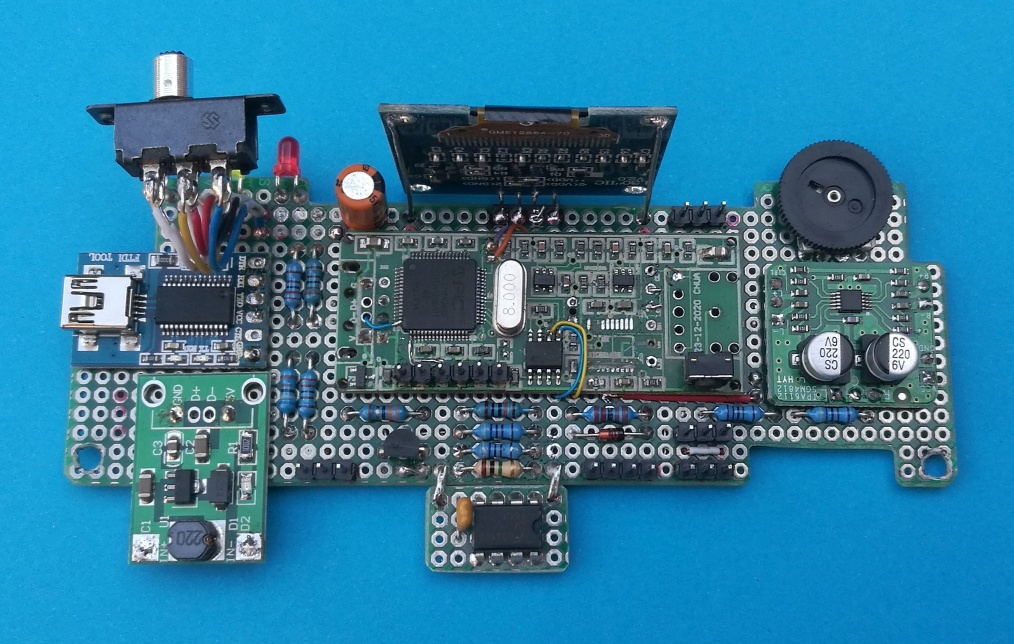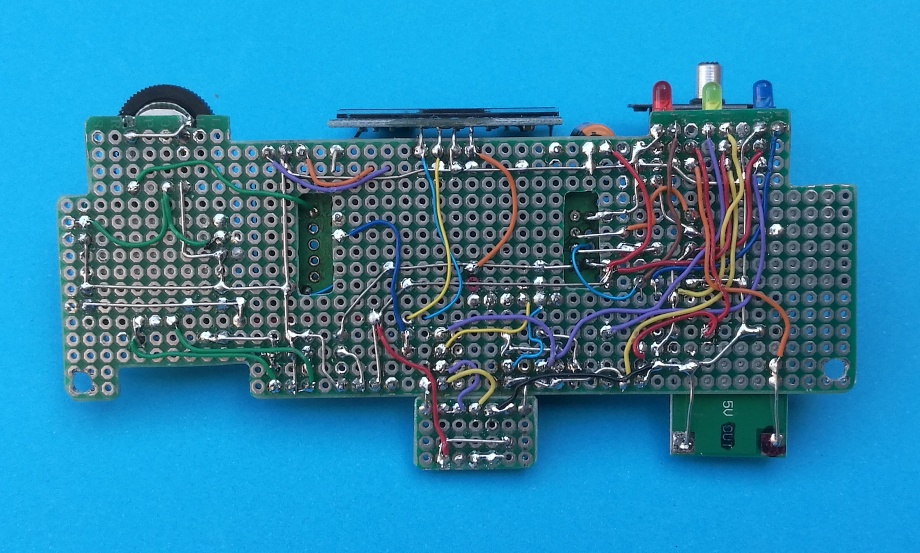 ___

View/download REMI synth 'Lite' schematic diagram
The enclosure is a plastic box, size 130 x 65 x 42 mm. This photo shows the internal layout...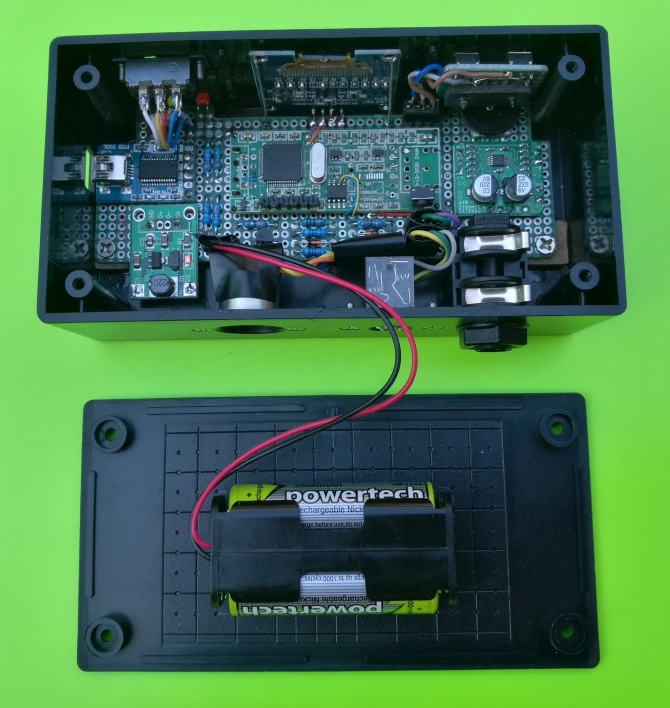 A few of the GUI screens...
| | |
| --- | --- |
| | |
| | <Vibrato settings> |
...
... to be continued ...
<to do: Add notes on battery-charger operation.>
---